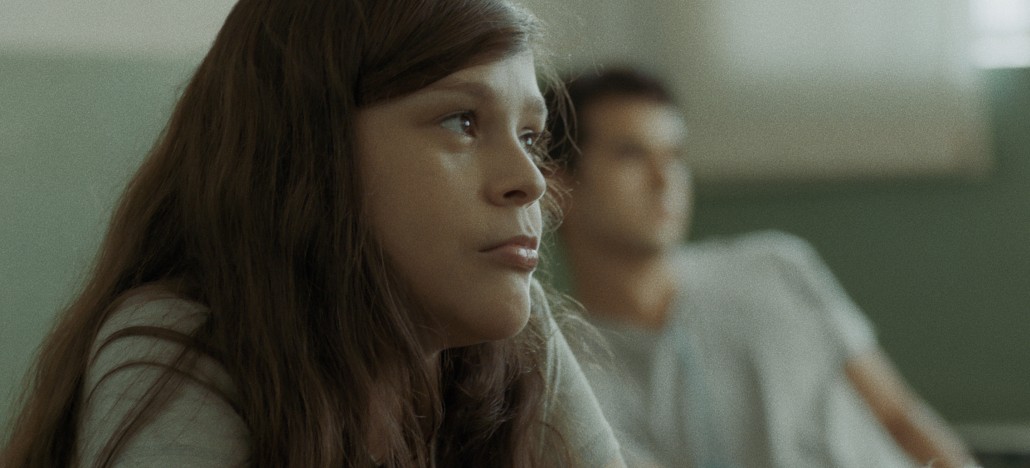 Uprooting your life and moving to a new town as a teen is tumultuous in the best of circumstances. Learning a new city and making new friends so late in one's schooling is asking a lot of a young adult. In Cássio Pereira dos Santos's Valentina, the titular character is forced to endure this hardship while also balancing getting ahold of her estranged father for important paperwork and keeping her gender assigned at birth a secret.
Valentina (Thiessa Woinbackk) and her mother Márcia (Guta Stresser) are forced to leave the larger city, where Valentina has found a level of acceptance, so that Márcia can start a new job as a nurse. In one of their first days in the new city, both women visit the local school to enroll Valentina who and ensure that she can register under her social name. As part of the registering, Valentina is also encouraged to attend summer school as she missed a year due to details unspoken but likely related to her transition. In these classes she meets Júlio (Ronaldo Bonafro) and Amanda (Letícia Franco) whom she becomes fast friends with, but regardless of their friendship, Valentina keeps the fact that she is transgender a secret because acceptance is never a given.
This is the part that I admit in full disclosure that as a trans woman myself, my feelings on the treatment of Valentina are going to supersede all other aspects in filmmaking when reviewing this film. Thankfully, Valentina treats its protagonist, and the actress who played her, with the upmost of respect. First and foremost, the actress Thiessa Woinbackk is a young trans woman herself. The casting decision is the bare minimum that needs to be done when making a film about the trans experience, but enough people fail at it that I am calling it out. Even beyond that, the material is extremely courteous of Valentina. Trans bodies are almost always commodified and exploited, but the film does not go out of its way to sexualize or objectify her. When given an opportunity to undress the character for a medical examination, Valentina declines and the film never broaches the idea again.
While the respect for its trans character is a welcome relief in any film, Valentina is especially impressive in its capturing of the experience. The singular moment that stood out as a film talking with its trans actor to create something that feels real happens at the darkest point of the film. Valentina having been first outed and then threatened is assaulted while out for a run one evening. Rather than doing any bodily harm to the young girl, the masked men cut off a handful of her hair. For many trans girls, the hair is the first part of their body that can help alleviate body dysphoria. By attacking this symbol of femininity nothing graphic needed to be done. The emotional devastation was sufficient to get the point across.
As countries continue to take steps demonizing trans people and legal restricting a young trans person's access to healthcare, positive representation becomes increasingly important. Valentina can help fill the void of positive portrayals of trans girls. Staring a brilliant young trans woman, the film paints a picture of a young girl who wants nothing more than to live her life as a normal teen. Valentina is a nearly perfect piece of transgender representation, and Woinbackk has the makings of an excellent queer star.