Let me get this out of the way. I'm not saying that men should actually be barred from the making of films about certain topics. I'm also not saying that men are never the victims of sexual violence. What I'm saying is that inherent in the #MeToo movement is something distinctly feminine that the average male director, that Jay Roach, does not intrinsically understand.
Bombshell is the story of the sexual harassment complaints filed against Fox News CEO, Roger Ailes (John Lithgow).  The film follows three women who all were recipients of various levels of harassment from the CEO: Gretchen Carlson (Nicole Kidman), Megyn Kelly (Charlize Theron), and Kayla Pospisil (Margot Robbie).  Each woman's story is told in parallel during the months leading up to lawsuit.  The three differing current career placements represented by these women serves to portray the duration that Ailes's criminality has subsisted.
All three leads are excellent in their depictions of the real-life Fox News personalities.  Kidman's time on screen is limited compared to the other two women as her impending and eventual firing is the inciting incident for the lawsuit.  Theron is terrifying in her transformation to the cold and calculating Kelly and serves as primary protagonist.  Meanwhile, Robbie's Kayla serves as a the more approachable character balancing to the other two women's jaded demeanor.  Despite the film being sold on its leading women, they have very minimal interaction with each other.  The way each woman individually interacts with the terrible scenario she's been put in create a feeling of the isolation that reflect each of their realities.  Ailes, and the patriarchal hierarchy, turns them all into victims with no where to turn if they have any hope of working in their field again.
There-in lies the problem in this film's ability to be a depiction of the #MeToo moment.  The reason that the movement exists, and why it specifically is attached to a hashtag, is to help women understand that they aren't alone in their reality.  At one point in the film, Kidman's character comments on the inability for the women in Fox News to work together in response to her refusal to call Megyn Kelly.  This theme is again touched on when Robbie's character calls her coworker and friend Jess Carr (Kate McKinnon) in tears over the abuse she withstood, and McKinnon's character only wishes she could have done more. These scenes could easily have been expanded upon and become the thesis for the film, exploring how powerful men abuse women and then use their power to isolate them. Instead Roach is more interested in regurgitating history and asking the audience to cheer as a monster gets his due without exploring the emotional core behind these stories.
Much of the communication between women about Ailes's harassments is short snippets with minimal to no dialogue. Instead of victims comforting each other, the interactions between women is shot akin to gossip circles by Roach's directorial decisions. Kelly's investigation into the extent of Ailes's harassment results in a chain reaction of women confronting each other to get names of their abusers. When the women do so, they don't offer hugs of support, but confront one another somewhat stealthily in locations they could be caught. Even if this is the truth, this codes women as being conniving as opposed to supportive. This decision further makes the story about the Ailes and the other Fox News abusers rather than their victims.
Interestingly, despite the, justifiable, critical acclaim the three leading women are receiving for there performances, it's in the supporting roles that I find the hints of what would have helped this film achieve what it's being connected to.  The strongest moment of the film is the scene mentioned above where Robbie calls McKinnon in tears. In the few moments McKinnon has on screen during this scene she's excellent. McKinnon's character clearly feels terrible for turning down her friend earlier when she was approached in need.  Unfortunately, after using this tearful moment to emotionally activate the audience, these two characters never have a speaking moment between each other again.  The film refuses to let these women form a support network during what must be the hardest moments of Robbie's character's life.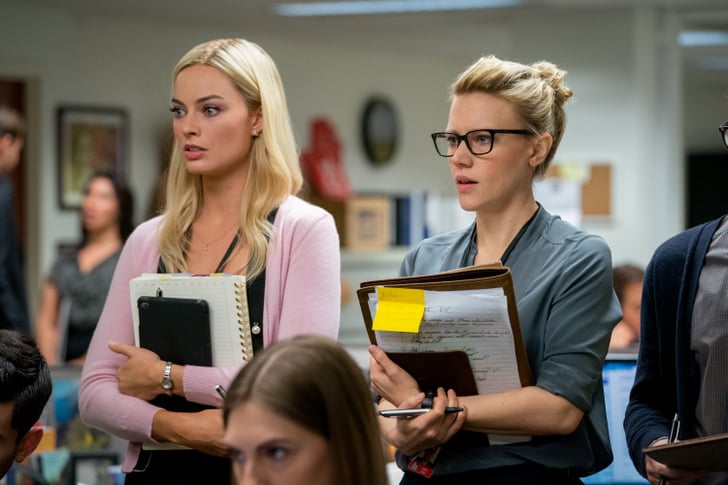 The other minor characters who do their best to exemplify what a film in the #MeToo movement should be are two of the staffers in Megyn Kelly's crew: Lily Balin (Liv Hewson) and Julia Clarke (Bridgette Lundy-Paine).  They along with Gil Norman (Rob Delaney) serve as Kelly's professional guidance, and eventually her support in deciding weather or not to go public. We can discern through context clues that Kelly eventually informs Balin and Clarke of what happened to her, but the only scene of Kelly confiding in anyone is when she informs Gil, the man on her team. Liv Hewson in particular is the highlight of the film. Her character seems committed to supporting Kelly in coming forward about her experience even to the detriment of her own career.  She exemplifies what the movement is and what a film about the movement should be, yet we barely see any interactions between her and Kelly.
Maybe Bombshell lives up to the goals that Jay Roach set out for it. He took an obvious villain, and made his viewers cheer when said villain was caught and fired while delivering a few cries along the way.  In that way, it is true that Bombshell depict an incident that was an integral part of the #MeToo movement, but by denying the women in his film any of the emotional connection that the movement represents, Roach failed to create a #MeToo film.