Today's viewings were a change of pace from my more recent fare. I've been in serious need of a cleaning day, and since I was in the midst of a three-day weekend it made sense to choose today. I spent most of the day deep cleaning my kitchen, but thankfully the kitchen has a perfect view of my TV so I could watch something at the same time. In order to mitigate the distraction from cleaning, I chose to watch something that had a greater emphasis on sound than visuals. Thus, I put on a pair of musical documentaries.
Don't Look Back (1967, Dir. D.A. Pennebaker)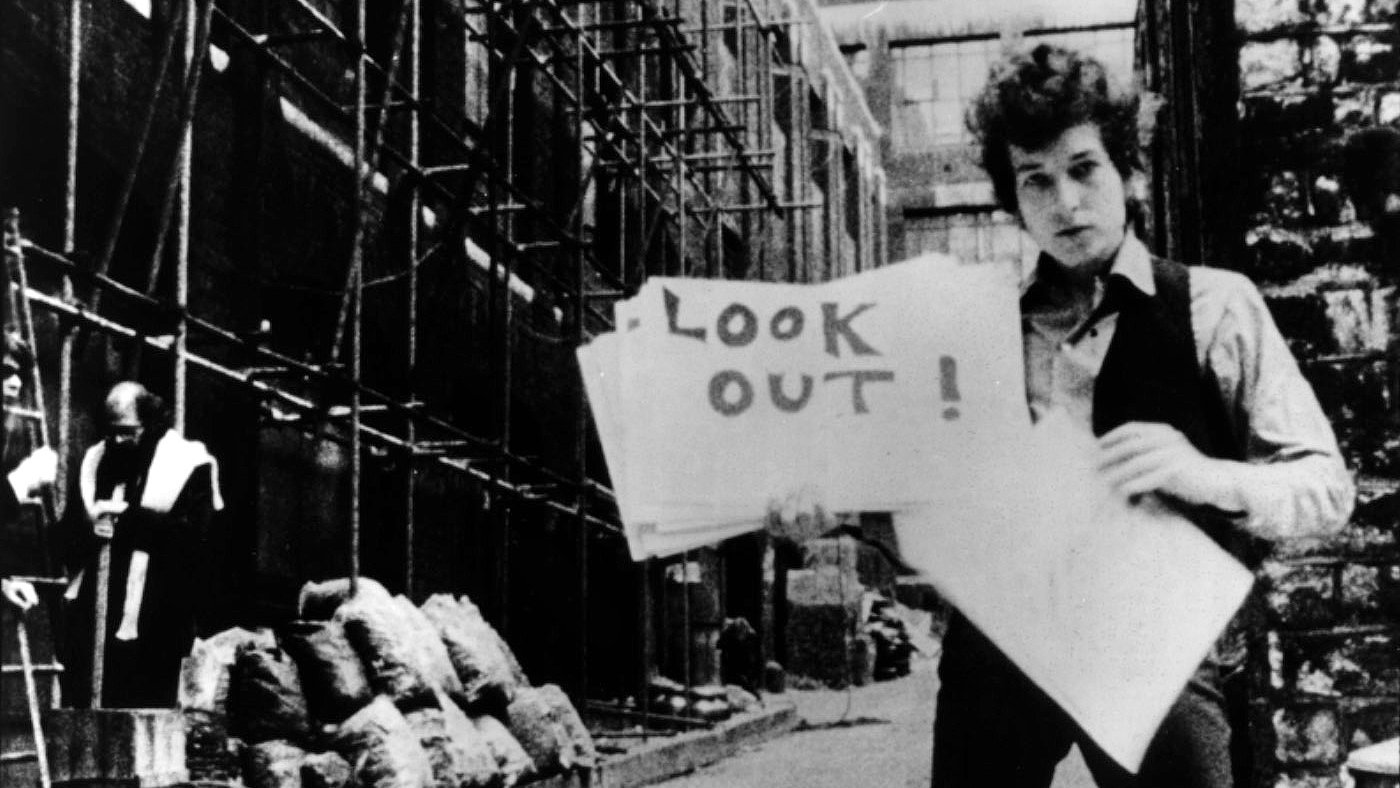 First off was D.A. Pennebaker's documentary on Bob Dylan's 1965 England tour Don't Look Back. The tour coincides with the release of Dylan's "Subterranean Homesick Blues", one of the first major deviations in the man's career. Throughout he's confronted by fans who question his stylist changes and reporters who try in vain to extract any meaning from the aloof Dylan.
From the recorded live performances in front of hauntingly silent crowds to the never ending afterparties of stoned philosophizing, Dylan's persona permeates the entire film. Through the unprecedented access the audience is privy to the many sides of Dylan. His virtuosic song writing stands in complete contrast to his more reserved or jokingly masked interactions with others. He tells reporters that he doesn't think about the meaning to the songs, but the impact they have on others can't be denied. Despite Pennebaker's camera focusing on Dylan at all times, he remains an enigma throughout.
The Decline of Western Civilization (1981, Dir. Penelope Spheeris)
While the music of Bob Dylan may not have much sonically in common with the Los Angeles punk scene in the late 70s, The Decline of Western Civilization made for an excellent pairing with Don't Look Back. 10 years after Dylan was the peak musical countercultural scene, the folk scene felt quant rather than controversial. The hippie culture failed to accomplish anything with its peace protests, and the younger generation turned to punk music as a more aggressive musical outlet.
Director Penelope Spheeris focus on the punk scene of the time by intercutting live performances with interviews of the bands and the fans separately. All sources interviewed point towards the anarchic vibe of punk culture as to what makes it special, for better or for worse. Band managers shake their head in frustration at their inability to control their bands, but without the alcohol and coke binges the movement wouldn't work in the same way. Spheeris captures both the grit and the passion that make the punk scene what it was.