I really hit a wall, and I am sorry that this series stalled out. The state of the world compounded with my depression to strip of my ability to focus on film for a few months, but it is still my passion am going to do my best to continue writing.
Part 1. Honorable Mentions 101-150 (in alphabetical order)
Part 2. 100 – 91
Part 3. 90 – 81
Part 4. 80 – 71
Part 5. 70 – 61
Part 6. 60 – 51
Part 7. 50 – 41 (below)
Part 8. 40 – 31 (coming soon)
Part 9. 30 – 21 (coming soon)
Part 10. 20 – 11 (coming soon)
Part 11. 10 – 1 (coming soon)
The Fits (dir. Anna Rose Holmer, 2016)
To this day, The Fits is the only narrative from director Anna Rose Holmer, and that is a complete shame. Her debut film uses magical realism to exemplify the uncertainty inherent in graduating from childhood to adolescence. The film takes the viewpoint of its lead character Toni (Royalty Hightower), a young tomboy who spends her time at brother's side in training in a boxing gym. Intrigued by the group of girls in a dance troupe practicing in the same gym, she begins to discover herself. A wonderful hypnotic film highlighted by a strong debut performance; The Fits leaves me wanting more from the two women at its center.
Shame (dir. Steve McQueen, 2011)
Shame is a movie that I can only talk about in the first person. When I first saw the film by myself, I was in a packed theater during the St. Louis International Film Festival. In those circumstances, McQueen's precision in building tension was overwhelming and resulted in a panic attack. Months later the film hit wide release and I watched it again in a mostly empty theater and a few friends, and the melodrama and oppressive mood again weighed on me, but this time left me flabbergasted in awe. Michael Fassbender acclimates well to McQueen's intensity demands, but as good as Fassbender is in the film, it was Carey Mulligan's devastating performance as Sissy that left such an impression on me that I literally named myself after her. Shame is not the best film on the list, but it is the one the undoubtedly had the largest impact on my life.
Frances Ha (dir. Noah Baumbach, 2013)
The best of the Baumbach writer/director Gerwig writer/star films, Frances Ha is the perfect quarter-life crisis film. The film's black and white aesthetic hearkens back to the classic films of the French New Wave which Baumbach sought to emulate. But while the style and story beats may reflect the carefree whimsy of France in the 1960s, it is Gerwig's performance that transforms the film into a purely American film, and I say that in the best of ways. She manages to combine the young and carefree nature of the French New Wave with the purposeless meandering of the millennial generation who graduated college to find the world was not what was promised.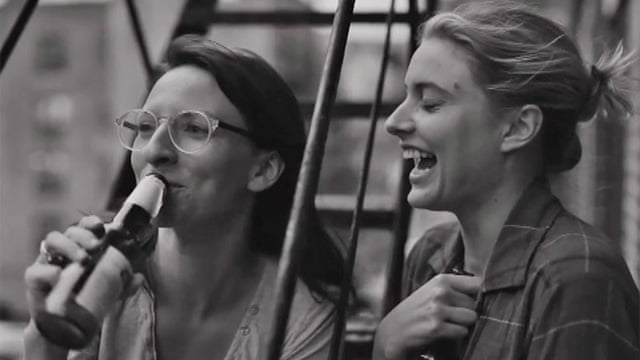 Inside Llewyn Davis (dir. Joel and Ethan Coen, 2013)
A journey of a man and his cat, except the cat is not his and the journey is nothing but a string of a series of desperate attempts to find meaning in life. Oscar Isaac gives the performance of his career so far as the titular Llewyn, a folk singer trying to continue as a solo act after his partner's suicide. Because of the lack of sales of the new album, Llewyn couch surfs and jumps at any opportunity to continue in the craft that he loves. The film touches on the loss of passion, and the loss of purpose when it disappears. Isaac spends much of the film displaying different levels of discontent, but said discontent is all because Llewyn knows the passion he once had.
Her Smell (dir. Alex Ross Perry, 2019)
Elisabeth Moss does not get the credit as a film actress she deserves. Between Mad Men, The Handmaid's Tale, and Top of the Lake, it is easy to dismiss her a TV actress, but in between those shows she has taken incredibly complex roles in multiple critically acclaimed films. Alex Ross Perry correctly identified Moss as an actress capable of headlining his two plus hour film Her Smell. Moss stars as punk singer Becky Something who is struggling to maintain her fame because of her own self-destructive behavior. The film centers exclusively on her through five scenes in her flailing career while she first loses control and then struggles to regain it. Perry bemoaned his inability to put any money behind an Oscar campaign for Moss and her inevitable snub was egregious as the success of this film is exclusively because of her.
Clouds of Sils Maria (dir. Olivier Assayas, 2015)
Fun fact, did you know that Juliette Binoche took her role in Godzilla (dir. Gareth Edwards, 2014) to prepare Clouds of Sils Maria. She did it to better understand the character of Jo-Ann Ellis (Chloë Grace Moretz) a young actress know for a young adult science fiction series who after years in camp films sets out to perform in a meaty dramatic role in the play that Binoche's character became famous for. The film plays on themes of identity and the connection between character and actor. This theme is further enhanced by the meta casting of Kristen Stewart (the standout of the film and best actress of her generation don't @ me) who's career essentially mirrors Moretz's character. Stewart and Binoche are a perfect acting pair and push each other wonderfully as co-leads.
The Wind Rises (dir. Hayao Miyazaki, 2013)
Whether or not Hayao Miyazaki ever returns to the big screen, The Wind Rises was clearly crafted as a swan song for the acclaimed director. Miyazaki's love of flying machines its forefront in this film, even more so than his 1992 film Porco Rosso, as it tells the story of real life engineer Jirô Horikoshi who was most famous for reluctantly designing the planes that Japanese fighters used in World War II. While the story is more grounded in reality than any other Miyazaki film, his flair for the fantastical is still distinctly felt through a memorable earthquake scene and plentiful gravity defying dream sequences. What makes the film a perfect swan song is how much Horikoshi's passion mirrors that of the acclaimed Japanese auteur; with this reading it is difficult to Miyazaki as not treating The Wind Rises as his retirement announcement.
Paterson (dir. Jim Jarmusch, 2016)
Fresh off his starring role in the highest grossing film of all time (domestic), Adam Driver left the world of lightsabers to return to his independent roots in this quiet poetic slice of life.  Jim Jarmusch channeled his inner Charlie Kaufman in directing by adding moments of absurd surrealism to the otherwise aggressively grounded character study. Driver plays the titular Paterson a bus driver and poet in the living in a city that shares his name.  Paterson's poetry underscores the entire film, frequently stopping to allow driver to recite pomes in full.  Jarmusch uses this medium of art to reflect on his own craft both bring the creators personal fulfillment while being impermanent and fragile.
Phantom Thread (dir. Paul Thomas Anderson, 2017)
A dressmaker is an odd final role decision for an actor oft included in the lists of the greatest of all time, whose acclaim comes from playing larger than life oil tycoons and presidents, but that's what Daniel Day Lewis declared when he announced Phantom Thread as his final film. While Reynolds Woodcocks profession may not be one that frequently results in epic stories, Day-Lewis's precision was once again complimented by his There Will Be Blood (2007) director Paul Thomas Anderson's grandiose vision. Yet, despite the cinema powerhouses of the two men at the center of the film, it is Vicky Krieps performance of Alma that lays at the center of what makes the beautiful period piece work. Her ability to counter Lewis's manipulative character with her own charisma speaks volumes towards her future.
Shoplifters (dir. Hirokazu Kore-eda, 2018)
2018's Palme d'Or winner, Shoplifters is a masterful drama about family.  Reminiscent of Satoshi Kon's Tokyo Godfathers (2003), a collection of mostly unrelated vagabonds adopts a young girl they find outside, and after finding that she is being abused by her genetic family adopt her into their makeshift family. Their tragic story draws attention to the tribulations thrust upon the impoverished and contrasts the legality of their actions with their necessity.  Despite being hustlers and crooks, the love and adoration shared between the members is heartwarming, and you long for them to stay together despite the struggles.